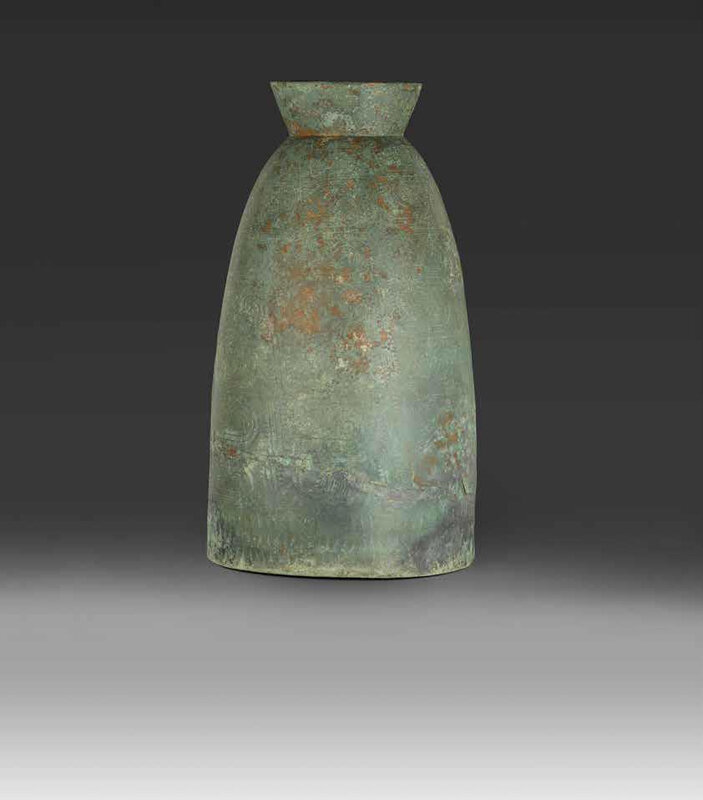 Lot 35. A copper alloy ritual bell, Dong Son culture, Vietnam, circa 2nd century B.C. Height: 57 cm (22 ½ in). Diameter: 33 cm (13 in). Estimate HK$80,000 – 120,000. Sold for HK$ 50,000 (€ 5,321). © Bonhams 2001-2018
Provenance: Private Collection, California.
Note: This cast bronze bell has a flared mouth and no clapper; none of this class of object has been found with a clapper. It has a high, narrow body surmounted by a bowl like a handle. The whole is decorated with vertical rows of rectangles containing conjoined double spirals, each spiral with a central 'eye motif'.
The Dong Son (or Dongson, or Ðông Son) culture of North Vietnam long remained a mystery to western archaeologists, and it was known only through its bronze objects, many of which were taken from burial sites. Dong Son bronze objects were exhibited in Europe for a century before their original location was even determined, and several theories and speculations over the dating methodologies of the culture continue to this day. These bells with no clapper continue to be mysterious objects, but the artwork on bronze drums from the same period and culture suggest that the Dong Son were a musical culture, see lot 36.
For comparable pieces in what is described as the Dong Son style, see, 'Reves de Collection, Jean Paul Barbier Mueller, Sept millenaires de sculptures inedites, 2003, no.27 and Marcel Niess, Buddhists, Hindus, and Jains, In Search of Perfect Beauty, Antwerp, 2000.