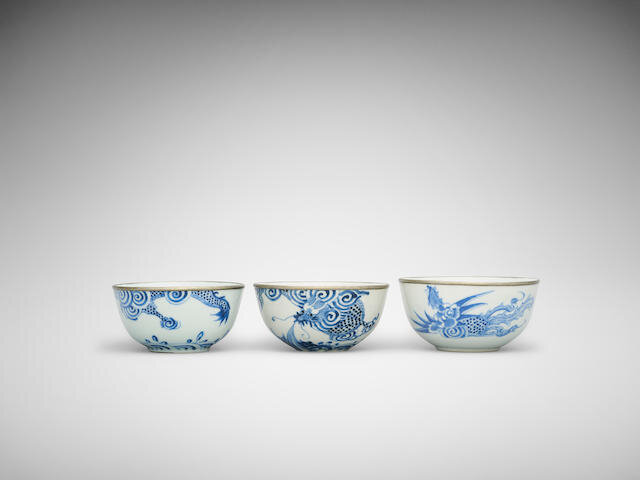 Lot 91. Three Bleu de Huê 'dragon' and 'phoenix' bowl, Neifu mark, 19th Century, Jingdezhen export-ware; diameter: 10.7 cm, 10.3 cm, 11.1 cm. Sold for AU$ 793 (€ 498). © Bonhams 2001-2018
each fitted with silver rim.
Provenance: Private collection, Sydney.
Note: From the 1700s onwards, kings of the Le-Trinh dynasty in Vietnam ordered porcelain from China for their court. This type is named after Hue, the 19th-century capital of the last royal dynasty in Vietnam, the Nguyen dynasty (1802-1945). Although Chinese artisans executed the painting, Vietnamese rulers dictated the designs. Each ruler ordered ceramics of his own liking for use in his court, as well as presentation pieces to give to members of royal families and mandarin officials.
The Neifu mark appears to start around 1841-1883; at the end of the 19th century metal rims had become very popular, to protect the rim from damage.
There is a similar bowl in the collection of the Art Gallery New South Wales, with a dragon spitting fire amongst circular clouds, the design stopping short at the rim, accession number 168.2002
Bleu de Huê bowl with dragon decoration, China Export ware (Viet Nam), Qing dynasty, circa 19th century-20th century, porcelain with underglaze decoration, 5.1 x 10.9 cm. Gift of Dr John Yu & Dr George Soutter 2002 (168.2002) © Art Gallery New South Wales
Bonhams. ASIAN ART INCLUDING A PRIVATE COLLECTION OF CHINESE PAINTINGS, 25 Oct 2017, SYDNEY