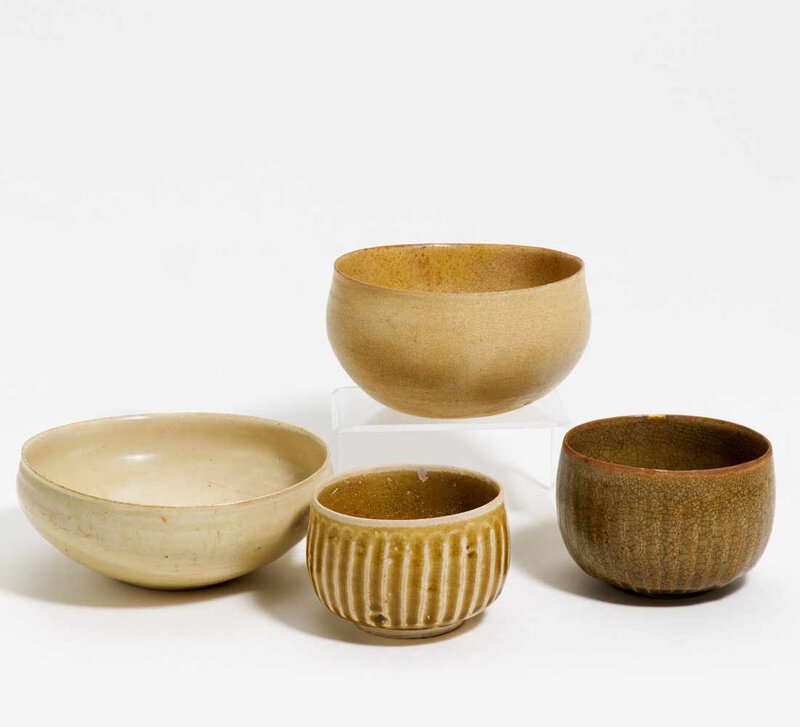 Lot 2407. Four bowls, Vietnam-Annam, Trần dynasty (1225-1400). Estimate 400 € – 900 €. © 2008-2019, Van Ham Fine Art Auctioneers
Stoneware. Two fluted bowls with green celadon glaze, two bowls with beige glaze. H.7-9,5cm, Ø 11-19cm. Condition B. With cracks and some gold lacquer repairs.
With cracks and some gold lacquer repairs.
Provenance: Estate Andreas Holter.
Note: Andreas Holter (1946-2017) studied Sinology at the University of Göttingen, Hamburg and Bonn, among others with Prof. E. von Erdberg. He was mainly interested in Chinese, but also Vietnamese ceramics and porcelain. With his own collection, Holter was able to make good use of his extensive expert knowledge and acquire pieces that enriched his studies of Chinese and Vietnamese porcelain. He devoted himself to collecting for a long time with great passion and so he succeeded in assembling an interesting collection. As a result, his collection includes unusual pieces of Chinese porcelain and Vietnamese ceramics, including those collected in Japan. In addition, there are some tea bowls and other ceramics made in Japan in relation to Chinese and other foreign traditions. Holter worked as an expert for various museums and published for example the Chinese porcelain in the Altenburg Castle of the Porcelain Collection Bernhard August von Lindenaus and the Sybillenkabinett.
Art d'Asie chez Van Ham, Köln, le 12 Juin 2019 à 10:00