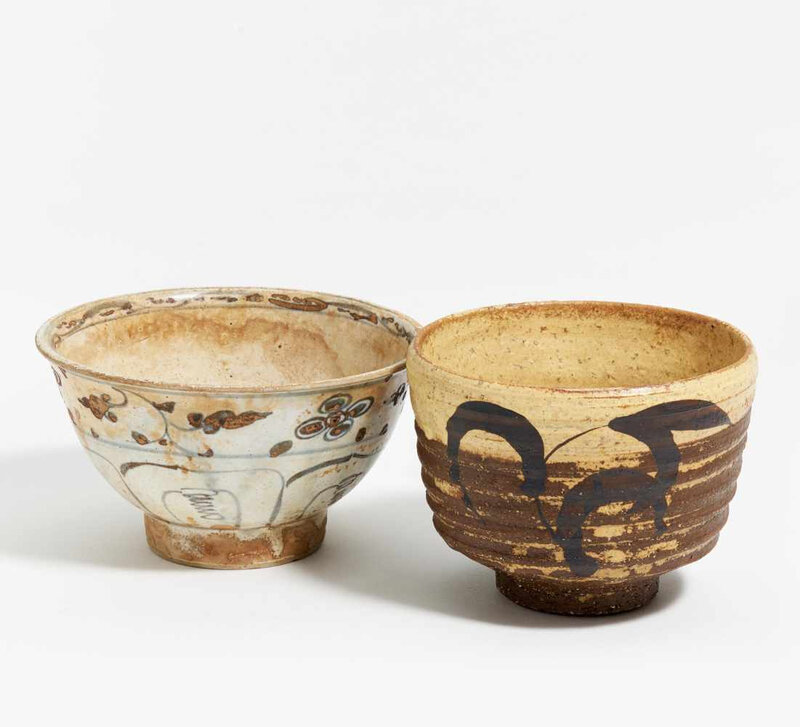 Lot 2409. Annam chawan, Vietnam, 16th century & Tea bowl, Japan, 20th century. Estimate 500 € – 900 €. © 2008-2019, Van Ham Fine Art Auctioneers
a) Annam chawan with tendril and lotus flower decoration. Vietnam, 16th c. Used in Japan as a tea bowl. Stoneware with whitish opaque glaze, painted underneath with cobalt blue and iron brown. Curved wall with swinging lip on high, conical foot ring, painted inside with iron engobe. H. 7,6cm, Ø 13,7cm. Condition B. Glaze at the lip and foot brittle.
b) Tea bowl from dark brown Shigaraki stoneware with ishihaze inclusions, partial light ash glaze and manganese brown painting. Japan, 20th c. H.8.5cm, Ø 11.5cm. Inscripted on the lid of the box made of cedar wood (sugibako): Shigaraki yaki and Sign: Seiryu (or Kyotaka) with seal.
Provenance: -Estate Andreas Holter.
-Formerly collection Ulrich Vollmer, acquired in the 1990s in Japan.
Art d'Asie chez Van Ham, Köln, le 12 Juin 2019 à 10:00